In the News!
***** YARD SALE JUNE 3rd*****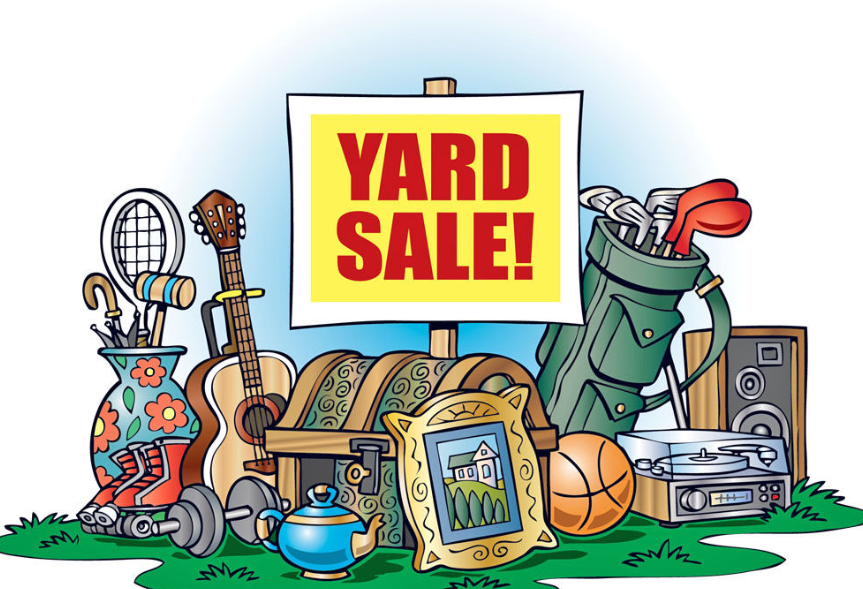 Have you got items you would like to sale or just get rid of from your space or home? Many of our neighbors have decided to participate in a YARD sale. Get your tables ready, your items marked, and your negotiation skills tuned up! It will be on Saturday June 3rd, between the hours of 7am to 4pm. Please be respectful of your neighbor's driveway and let's make sure we clean up afterwards! Good luck to all! Get those items out there!
Welcome Baskets Delivered
Thanks to the generosity of neighbors and a local business, new neighbors were recently gifted with Welcome Baskets full of goodies! A big thank you to Robert Barnett in the acquisition of the wine and chocolate from the Vine Bar here in Navarre! Each gift had fresh bread, dip, stuffed peppers or jam, chocolate, spices along with the wine and other gifts. To those who received, we hope you enjoy! The total baskets delivered this year is now 7. If you know someone new has moved in, please reach out on this page to let us know.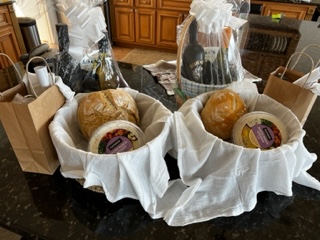 Board Meeting Upcoming!:
The next BOD meeting will be held on Monday, June 12th @ 6:30 PM. This is an In-Person meeting. Please let the BOD know if you would like to host. There will also be ZOOM availability.
Contact Us – Biscayne Pointe HOA
Owner Concerns regarding Neighborhood PETs:
UPDATE 5/22/2023: There has been several more recent complaints of dog poop not being picked up by pet owners which is now leading to discussions of whether dogs should be allowed on the beach as in other public beach areas in Florida. Please be mindful that if this continues, there may be an effort to enforce covenants regarding dogs off leash except in your own yard. The enjoyment of our private beach comes with responsibility of cleaning up behind oneself and your pet.
Recently, there has been several complaints of increased incidences of owners not picking up dog poop while walking on the beach as well as dogs not under leash/voice control and wandering into other neighbor yards off leash or not controlled. One complaint was that two dogs aggressively rushed at an owner and her pets in their own yard. In ARTICLE IV SECTION 11 of the HOA CCRs, it is written, "No animals, livestock or poultry of any kind shall be kept or maintained on any Lot except that dogs, cats and other household pets may be kept provided that they are duly licensed, if applicable; that they do not constitute an annoyance or nuisance; that they are not kept or bred for any commercial purposes; and further, provided that such pets are not permitted to be present beyond the boundaries of the Owner's Lot without being leashed or caged." Santa Rosa County Animal Control stated when asked that it is the responsibility of each homeowner and renter to follow the HOA rules regarding pets as well as Santa Rosa County Code. Animal Control should be called for continued issues and a case filed once the HOA Owners have attempted to handle disruptions without success. The HOA Board of Directors and ARC should be notified so that a covenant reminder is initiated. If the issue persists, the HOA management may be required to send a violation notice as well as Animal Control initiating the County process.
A letter dated 3.23.2023 came out recently to all members from the HOA President. If you did not receive one, please see below.
Neighbors,
Recently there have been a few complaints of incidents involving dogs. They have ranged from nuisance barking, dog biting dog, and dogs loose on the HOA beach running/getting loose and running into other owners' yards. Of course, poop left on the beach is consistently a problem. This is just a reminder regarding the requirements and restrictions contained in the CCRs and Bylaws.

Please be courteous of your neighbors and especially down on the beach. It is a wonderful opportunity for pets to enjoy a bit of off-leash freedom and interact with other dogs. But please keep them under good voice control or on a leash. You won't be surprised there are some owners who would like to see dogs banned from the beach, and bad behavior just reinforces those desires. Health and safety of our residents and the pets have to remain a high priority. Please help preserve what we have.
Thank you,
Chris Morton, President
North Boundary Fence!
We need your assistance! In order to evaluate the northern fence line completely, there will be a need to do some maintenance on the southern side of the fence easement within our northern neighbor's homes. The north side of the fence line is being investigated but we need to see the other side. If you live on the northern boundary fence line, please contact us through this HOA page to discuss how you can help us get the fence line worked on. Update: We have heard from only a few! All North Boundary Homeowners, this is your opportunity to get your voice heard. Please contact the Board of Directors for more information. We are attempting to contact Dept of Transportation regarding their upcoming work in our area and how it may affect the north boundary area. If you know any historical information regarding this, please contact the HOA through this website. Update: We still need more people involved. Please contact the BOD to let them know how you can help!
Parking:
Recently, the HOA has received several inquiries/emails as to the number of vehicles parking in the street. This is not the occasional utility, lawn service, etc. parking. This has been occurring more frequently and some have already been addressed. ARTICLE IV Section 9 of the CCRs (located on this website) describes the covenants agreed upon by all owners when purchasing or renting. Please review ARTICLE IV Section 9. Kind reminders may come out soon as more neighbors/owners are having a difficult time navigating through the area.
Forms & Documents – Biscayne Pointe HOA
Street Signs
If your street does not have a sign, please let the BOD know. The HOA will be ordering a sign for Lucian and Biscayne Circle Dr. Neither street has one. Update: Street signs have been ordered and will be installed soon for the two areas. We did not hear from anyone else.
Board of Directors – Biscayne Pointe HOA
Letter from your Board:
Neighbors,
Recent months have been a bit tumultuous with HOA leadership and management. In late August, our former management company Etheridge Property Management (EPM) informed us they would terminate our service as of 31 Oct 22. Due to the proximity to our annual membership meeting, they subsequently agreed to stay with us through the end of the year.
At the annual Membership meeting, membership voted to accept the management proposal of Panhandle Property Group (PPG). Hopefully you have received an introductory letter from them by email and/or USPS. If you have not received both, we recommend you contact them as listed below. While the BOD has tried to update the contact list PPG has received from EPM, PPG can only use the contact information it receives directly from homeowners – you need to contact PPG directly to ensure proper communication.
At the October meeting of the Board of Directors (BOD), the BOD voted in accordance with the Bylaws to increase annual assessments by 10% to $440 per lot. That increase takes effect this year. IAW Bylaws, that assessment is due in January. You can send that payment to PPG at the address listed below. The BOD will address the possibility of granting a grace extension due to the uncertainties in this process this year.
If there are other questions regarding the assessment, transition to new management, or other topics, please don't hesitate to contact the BOD or PPG.
*UPDATE: The Board unanimously voted to extend the 2023 HOA Individual Owner Assessment Deadline to end of February. If you need more information on getting your dues in, please contact Panhandle Property Group using the contact information below*
Dues:
Biscayne Pointe Homeowners Association
P.O. Box 2620
Fort Walton Beach, FL 32549
Contact:
      Panhandle Property Group, Inc.
      (850) 226-8811
Committee Members Needed!
Please notify the HOA Board if you are interested in the following. All volunteers are welcome but some committee membership will need approval by the Board.
Welcome Committee – We still need volunteers!! Update: We have heard from a few. Thank you! As soon as possible, we will be working with PPG to organize when new owners are moving in. If you know of someone, please feel free to reach out and welcome them!
Fence Committee – We have a Chair for the Fence Committee. Brad Kronsbein has volunteered to steer this work. We have a couple of other volunteers to help but need more. Please contact the BODs to submit ideas for the North Boundary Fence line work. We appreciate any participation.
Architectural Review Committee – Read the CCRs and Bylaws as well as Florida Statutes regarding Responsibilities and Duties. All positions are filled but please continue to understand the HOA documents as we may need you at a later date.
Update: 3 volunteers were voted int to the ARC during the October Meeting. Welcomed new volunteers as they navigate the roles and responsibilities of being an ARC member. Guy Demarco, Luis Nunez, and Mike Kickovich. At this date, we have still have 5 members including Ian Crawford and Fred Reich.
Architectural Review Committee (ARC) – Biscayne Pointe HOA
Drainage Committee – Designed to research/investigate drainage infrastructure as well submit recommendations to the BOD. We need members from all areas of the HOA.
Update: Contract awarded to Pond 5 clean up via March 2023 meeting by unanimous vote of BODs. Also, a contract awarded for annual maintenance of all ponds. If you have any questions, please contact the BODs.
Update May (2023): The Contractor has been organizing his work, trimming the vegetation around some of the ponds and will update us more as the work progresses!
Road Committee – Our roads are private. We will need to start researching and investigating what needs may exist. No volunteers as of this update.
Board of Director – We have a complete 9 member.
Board of Directors – Biscayne Pointe HOA
New Committees – If there is a project you would like to see started and want to initiate the work, please contact the board. It is important that your voice is heard but it is also important that we get participation on these committees and projects. A Board member will be required for most committees to act as a Chair, but we need other members to help with the work.
Covenants and Bylaws:
Covenants: BPHOA_-COVENANTS
Do you know the documents? Every month, we will review some part of the covenants and bylaws of your HOA. This is not a platform to discourage but an attempt to bring us all together on what each document means and why we have them.
Would you like to review HOA Records? BPHOA Bylaws Section 10.01 and 10.02 refers to what the HOA should keep and how members can look at them at request.
DISCUSSION
Recently, there have been questions posed to the owners of the POINTE GROUP HOA, please read the Bylaws and CCRs and send questions to the BOD who can contact the HOA Attorney if clarification is needed.
Bylaws Section 9.05 refers to: "Biscayne Circle Drive Assessments. In accordance with Article V, Section 11 of the Declaration, the obligation to maintain Biscayne Circle Drive shall not be that of the Association, but that of the Block I Lot Owners. In this regard, the Block I Lot owners may levy a special assessment for such uses and purposes in the same manner (and each Block I Lot Owner and Lot in Block I shall be subject to the same liens, obligations, liabilities, responsibilities) as provided for in these Bylaws as if Block I Lot Owners constituted a separate association and Biscayne Circle Drive constituted their own common area." If you have any questions regarding the Pointe Group HOA and how they manage their HOA fees (separate from BPHOA fees that they also pay), you can reach out to the President and Treasurer for this group.
Covenants ARTICLE V Section 11. "Biscayne Circle Drive. With respect to "Biscayne Circle Drive" (as named as such on the Plat, including any bridge, causeway and any and all improvements relating thereto), and notwithstanding any other provision contained in this Declaration to the contrary:
Declarant is under no obligation to any Owner, the Association or any others to improve same.
Should Declarant in fact improve same, subject to all rights of Declarant herein, the use of Biscayne Circle Drive shall be limited to owners of Lots 1 thru 6, Block I ("Block I Lot Owners") and their respective families, guests, tenants, contract purchasers who reside thereon, contractors performing work for them, suppliers and purveyors of services solicited by them, deliverymen, law enforcement, firefighting and postal authorities, and to any other persons, organizations or entities who, in the normal course of their operation, respond to public or private emergencies, or who provide public or private utility services.
The obligation to maintain Biscayne Circle Drive shall not be that of the Association, but that of the Block I Lot Owners. In this regard, the Block I Lot Owners may levy a special assessment for such uses and purposes in the same manner (and each Block I Lot Owner and Lot in Block I shall be subject to the same liens, obligations, liabilities and (responsibilities) as provided for in this Article V as if Block I Lot Owners constituted a separate association and Biscayne Circle Drive constituted their own common area."